Nokia Lumia 920
I love my iOS devices. I suffer from serious Mac-envy. But I am definitely a Windows person. Perhaps I developed a loyalty to the brand due to working for them for over five years, but maybe it's also because it's just that easy to use and it's available. I love Windows 7, and am interested in trying out Windows 8. (Oh, and did I mention that I blog with Windows Live Writer on my PC?)
As for mobile devices, I can no longer imagine a life before Smart phones. Can you? Yet in the early years of the mobile invasion, we were all content with the green screens and brick phones. My first few phones were all Nokias. The sturdiest phone I ever owned was the first one I ever got – the Nokia 3210. I remember dropping that phone on the bleachers outside the UP Gym and the resulting scratch was barely noticeable. My last Nokia was from the 82 series, not sure if it was an 8210 or an 8250. I bought it second hand, and with a camera attachment.
But I've since moved on from Nokia. Moved on, and never looked back.
The Lumia line, boasting its PureView camera technology, is something worth checking out.
A smart phone with a great camera, Windows 8, and full version of Microsoft Office? This really sounds good. Send me a red one will you?
Read up on its features on the Lumia 920 product page. I got the iPhone initially because of it's camera, and Instagram. Had I learned of PureView before falling into the iOS trap, I really probably would have considered getting a Lumia.
If you like what you're reading so far, you can also head out to an Abenson store near you, and experience the Nokia Lumia 920 for yourself. I hear the Trinoma branch (so does Shangri-la Plaza and The New Glorietta) let's you test the phone, so I might swing by one of these days and check it out. Shopping for this and other gadgets at Abenson comes with perks too – the store frequently has promotions that give freebies for your purchase, plus all major credit cards have 0% interest installment deals!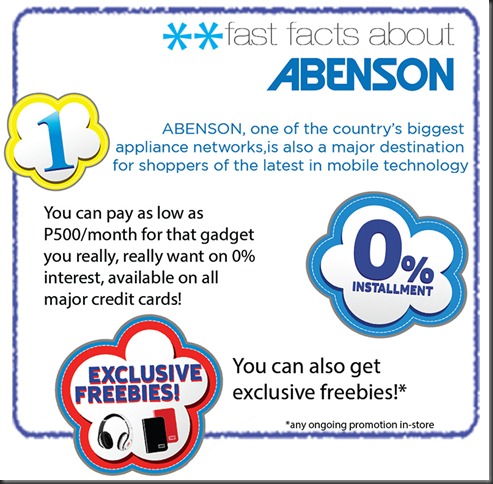 So there you have it. If you're in the market for a new phone, don't leave Nokia out of the running. The Lumia 920 might just be the phone for you.

This entry was posted on Thursday, February 21st, 2013 at 4:07 pm and is filed under Interesting stuff, Shopping. You can follow any responses to this entry through the RSS 2.0 feed. You can leave a response, or trackback from your own site.